April is here! And so are the new Top Five Wednesday Topics. which in my opinion are much better than last month's because it's more difficult for me to choose the right books for each one of them this time around.
Rainy Day Reads is the topic for this first April's Wednesday and before giving you my choices I will say that I personally consider rainy days to be very relaxing so they don't really affect me in a negative way. The books that I would choose to reread on such a day would probably be easy, funny and not very sugar coated when it comes to romance since that's the only type of romance I can stand. I have the impression that heavy topics would give me an headache on such days.
Absolute Boyfriend by Yuu Watase.
This one was the first manga I ever read and it was recommended to me by a friend with whom surprisingly I never had a very good relationship with. I will probably tell you the reason in the future. It's funny… and stupid in the same time.
Absolute Boyfriend is very funny, lighthearted, cute and has beautiful art. There are also emotional moments here and there. The main character is not a shy girl and wants to have new experiences. That's a big plus for me. Since it's also a fast read and doesn't require much attention it would be a very good read for a rainy day.
I've Got Your Number by Sophie Kinsella
Sophie's books are always a rainy day read because they're very cheerful and bubbly. Her main characters are somewhat annoying but the way they deal with problems it's what makes it fun to read. Another plus this story has is the main idea behind it.
Blue Chair by Shen
This is a webtoon created by a very funny guy named Shen. He never fails to make me smile and everytime I get an update notification doesn't matter where I am I'll be reading it. Shenpai is very realistic in what he presents and the way he manages to show both negativity and positivity of the situation shown is incredible. His humor and cheerful, carefree attitude are contagious.
To All The Boys I've Loved Before by Jenny Han.
This is a easy and fun read. You'll want to facepalm or cover your eyes because of second hand embarrasement but it's all going to end up well. Don't worry!
Howl's Moving Castle by Diana Wynne Jones.
A little magic, a funny demon, a whinny wizard with a beauty obsession and a old clean freak lady inside the same moving house. Sounds like fun to me. Sorry?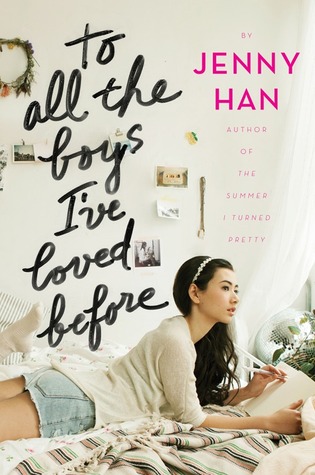 So these are my choices for this topic. Have you read any of the books mentioned in this post?
If you have already done this tag, please feel free to leave a comment down below and I'll be more than happy to check it out.
See you soon,
thedailyam